What's New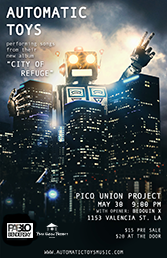 Craig's good friend Nachum Peterseil along with his band Automatic Toys will be gracing the Pico Union Project stage the evening of May 30th. The show will be recorded live, and feature new material from the band's upcoming album, Eeer Miklat (City of Refuge). The Producer of this album is platinum selling producer Brad Kohn. Automatic Toys is a hard working band whose members pride themselves on their fans' consistently growing and enjoying their live performances.
Founded in Toronto, the band has traveled both domestically and internationally, sporting sizable and enthusiastic fan bases in Los Angeles, New York, Toronto, and Israel. Let's see what all the hype is about on Saturday the 30th! Come with open ears and leave with full hearts. Click here for tickets.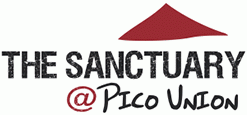 I have always sought to create moments that stir your soul, make you think and help you understand your identity and yourself in new ways. In this effort, I have found a partner in Sherre Hirsch, former Rabbi of Sinai Temple. Over the years we have learned those moments only happen with the dedication and commitment of people like you.
Two years ago, I acquired the oldest synagogue, the original home of Sinai Temple at Pico Union with a dream to create a multi-faith, multi-cultural center. Now home to five different faith communities, it is time to build our home – a Jewish one.
We need you to create the foundation with us.
We need your passion.
We need your creativity.
We need your love.
 
This year, our new initiative, The Sanctuary@Pico Union will begin on the first day of Rosh Hashanah, followed by Kol Nidre and Yom Kippur services.  To hear more about The Sanctuary@PicoUnion, sign up HERE.