What's New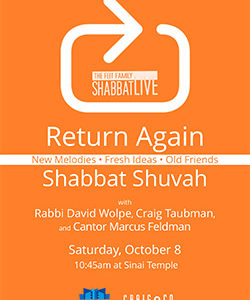 Saturday, October 8th at 10:45am
Join Craig Taubman, Rabbi David Wolpe and Cantor Marcus Feldman for a special Shabbat Live service this Saturday at Sinai Temple. Return Again…new melodies, fresh ideas and old friends. It's Shabbat Shuvah!
Join us a joyful, soulful, multi-cultural Oh-So-LA High Holy Days.  Last year we hosted the first High Holy Day services in LA's oldest synagogue in 91 years for a standing room only crowd. The Sanctuary@Pico Union is a space for celebration through prayer, singing, spoken word, diversity, learning, emotion, and intellectual stimulation. It could only happen in L.A.  …and we need you to make it.
We need you to build High Holy Days in the Sanctuary@Pico Union!  
We're not looking for membership, we want your ownership.
Once again, we offer a range of opportunities that invite you in and keep us open. Make a contribution to secure Sanctuary Passes that grant you access to all 5 High Holy Day experiences:
Slichot Saturday Eve September 24th @ 8:00pm
Rosh Hashanah Day Monday, October 3rd @ 10:00am
Erev Yom Kippur Tuesday, October 11th @ 8:00pm
Yom Kippur Morning Wednesday, October 12th @ 10:00am
Neilah on Yom Kippur Evening Wednesday, October 12th @ 6:00pm
(If you cannot attend all 5 services, let us know and we will donate tickets to those in need.)
Led by Craig Taubman with Rabbi Deborah Schuldenfrei, Zach Lasker, Rabbi Scott Westle, Jason Chu, Martin Sorrow, Stuart K. Robinson and Shany Zamir.
Act now to reserve your Sanctuary Pass.